MotoGP is one of the most popular motorbike racing events and you can find knowledgeable and passionate fans all across the world. However, the heart of MotoGP is in Spain and Italy because this is where the best racing teams in the world will be found and is where the prize money is the most lucrative. Every MotoGP season, there are 12 different teams competing for the title of World Champions, and there are two riders on each team. This means that each race usually has about 24 participants. Below we are going to introduce you to the world of MotoGP and tell you how the season is structured and how you can place bets on it. You will definitely have increased your MotoGP knowledge tenfold by the end of this article.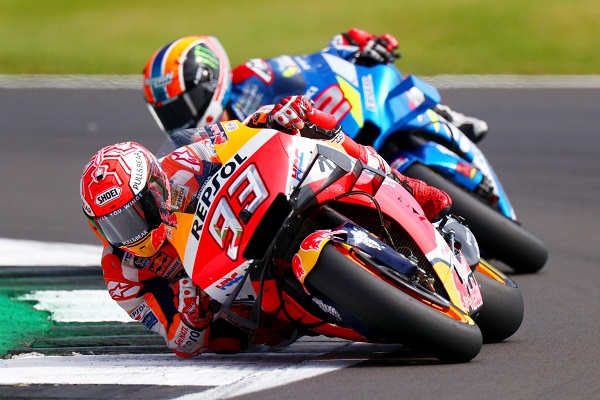 What is MotoGP?
MotoGP is the world's major motorbike sport, and throughout the year there will be 19 races held in the Americas, Europe, and Asia. You will find all of the world's biggest motorbike brands competing in MotoGP races, with Suzuki, Ducati, and Yamaha being the more dominant forces. These bikes can get up to speeds of 200mph, which makes this sport one of the fastest in the world. There is a qualifying race for each race, like in Formula 1, which is what determines where every rider begins on the grid. MotoGP races usually take place on a Sunday and last for about 45 minutes, meaning that there is plenty of entertainment to take in with each race. After all 19 races have been raced, the team and rider that have picked up the most points will win the title.
Who Are the Best MotoGP Riders?
At the time of writing, there is no one MotoGP driver that is completely dominant, but there are some iconic riders that will never be forgotten by MotoGP fans. For instance, Giacomo Agostini, from Italy, is the most successful MotoGP driver in the world, having won no fewer than eight titles. Then there is Valentino Rossi, another Italian, not far behind him on seven titles and he still has the chance to claim another as he is still racing. When Rossi finally retires from the sport, many fans feel that Marquez is the rider that will take over Rossi's mantle. Since 2013, Marques has claimed no fewer than five world titles.
Betting on MotoGP
Placing a bet on MotoGP and winning it can be tricky if you are not that familiar with the different riders. However, there are some tactics and techniques that you can make use of to increase your odds of making a profit. We are going to take a look at some of these right now.
Check out the Teams
MotoGP has laws that allow teams to adapt and improve their bikes over the course of the season, so this obviously something that you should keep an eye on after every race. We suggest that you back the team and riders that have already achieved some success throughout the season. You can keep up to date with all the latest rider and team news thanks to social media.
Always Check the Leaderboard
The very first thing that you have to do when MotoGP betting is check out what riders are currently in form those that are not. The easiest way to check this is out it to take a look at the leaderboard as this is going to give you a very good idea as to which riders are doing well. Obviously, the close that a rider is to the top of the table, the better their chances will be of winning the race.
Look at Previous Results
You should always make it a point to see how riders have performed at certain tracks that you are thinking about placing a bet on. For example, if you want to make a bet on the Japanese MotoGP, then you should think about betting on a Spanish rider as they have had a lot of success at Twin Ring over the last few years.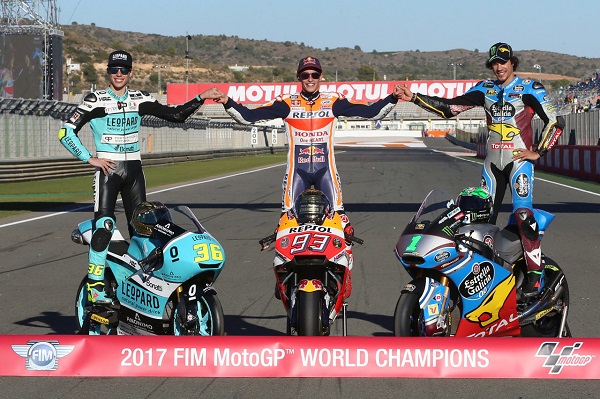 Betting Markets
Now that we have told you what you have to keep an eye out for, we shall now take a look at the MotoGP bets that you can make.
Race Winner
This is the simplest MotoGP bet that you can make as you are simply bettong on a rider that you believe will win the race. The odds that are given can help you to make up your mind - if a rider has odds of 2.00 to win and the next closest odds are 5.00, then this is a big indication that the rider with odds of 2.00 are heavy favorites to win the race.
Winning Margin
This is a new type of MotoGP bet and with it you are trying to predict the time difference between the rider that wins the race and the rider that comes second. If you feel that the race is going to be close, then it is a wise mov to put a stake on the winning margin. For example, you could bet that the winning margin will be something like 0-0.3 seconds. We know these are close margins, but it is testament to how fast MotoGP bikes go.